It's an exciting time in your life. You have proposed to or have been proposed to by the love of your life and they/you said yes! Now comes the fun part: planning your special day!
However, before you start setting up appointments for cake tasting and wedding dress fit-on, there's a very important task you need to get sorted out. That's right, we're talking about the budget!
Creating a budget and sticking to it is one of the most important aspects of wedding planning. After all, you don't want to be left broke even before you go on your honeymoon, do you? A budget will help you throw your dream wedding while making sure you don't spend more than you can afford, whether it is $100 or $100,000.
Here's a simple 6-step guide to creating a wedding budget. Let's get started:
Crunch the Numbers
The first step to creating a wedding budget is to figure out how much you can afford to spend. Sit down with your fiancé and get to crunching the numbers! How much can both of you contribute to the wedding fund every month between now and the wedding date? This has to be a realistic amount that you both can afford after discounting everyday expenses. Do you also have any savings that can go towards it? Keep in mind that it's not wise to empty out your savings account altogether.
Once you have figured out how much you both can pitch in, it's time to loop in your parents or other family members. People closest to the couple are often eager to contribute to the wedding expenses, so it's good to find out upfront so you can factor it into your budget. It's also a good idea to ask them if they are set on spending on a particular aspect of the wedding. For instance, your mother might dream of buying the perfect wedding dress for you or your best friend may want to buy you the perfect cake.
Talking about money isn't the easiest thing, but you want to do this step at the top so you have an accurate picture of how much you can spend. Plus, you don't want to end up disappointed (or in debt) if you expected someone to pitch in but they refuse at the end. Approach these conversations respectfully and be fine with hearing no.
Draw Up a Guest List
Next to your budget, your guest list is the most important aspect of wedding planning. This is because the cost of your wedding will pretty much depend on how many people you plan on having there. From the size of your venue to the number of cake slices you should order, your guest count will determine how much you end up spending. Not to mention food and alcohol, which are two of the largest wedding expenses!
Calculating the "per-person" expense of your wedding will help put things into perspective. It's important to carefully consider everyone you invite because trimming your guest list is one of the best ways to trim your expenses.
Pick the Date & Location
Other than your guest list, these are the other two most important factors that will determine your wedding budget. Prices will vary dramatically depending on where and when you choose to hold your special day.
For instance, a wedding held at a fancy New York City hotel will cost much more than one held at a public park or beach in a less swanky area. Similarly, a summer weekend wedding will end up costing your more than, say, if you were to get married on a Tuesday in February.
If one of these is more important to you than the other, then you may have to consider compromising on the other. For instance, if your heart is set on a date, you may have to pick a cheaper venue to accommodate that. Or you can choose to have an off-season wedding when many wedding-related expenses come with discounts and added perks.
Discuss Your "Must-Haves"
You and your fiancé probably have a few things in mind for the wedding, maybe you've always pictured the big day a certain way when you thought about it in the past. These would be your "must-haves", things you aren't willing to compromise or cheap out about. Figuring out your priorities will help you allocate the budget accordingly. This way, you don't have to spend a lot on the things that aren't super important to you and focus on what really matters.
Similarly, you are sure to have differing opinions as well; maybe you want a fancy sit-down meal while your fiancé prefers a buffet-style chow-down. Either way, it's important to bang out the details before it dissolves into arguments. How about this? Both of you get to have one thing your way that the other disagrees on.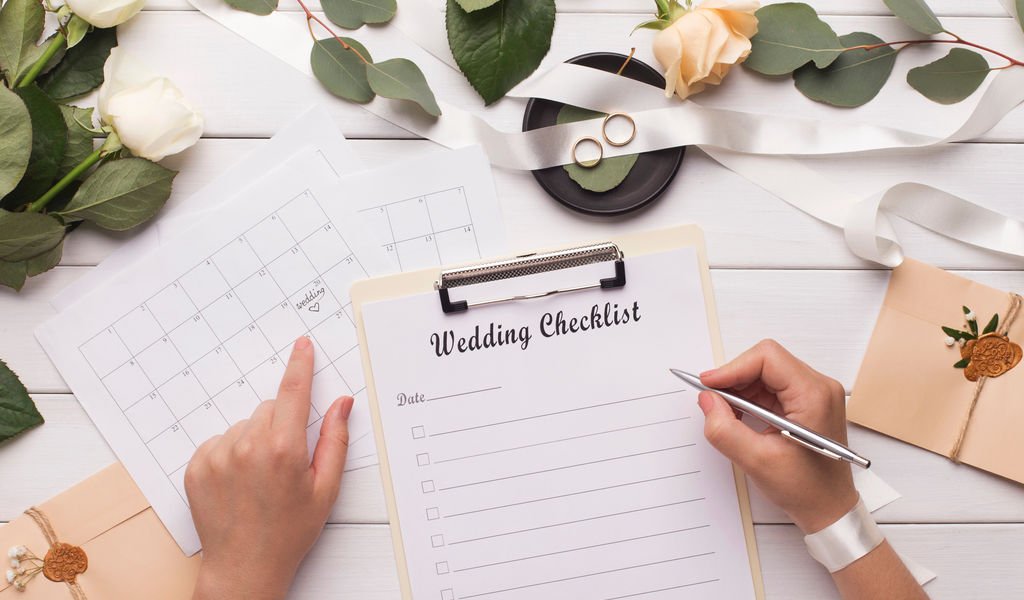 Factor in All Costs
Weddings are expensive. That's not exactly hidden knowledge, but did you know that it's the hidden costs that end up blowing a wedding budget out of the water? Yes, it's those costs that don't seem so obvious, that you may not have included in your expenses, that can amount to financial disaster. For instance, you may include the price of the wedding cake in your budget, but you may not know to account for the cutting fee.
Similarly, there may be other hidden costs such as setting up and breaking down fees along with the venue rental cost. You may have to pay delivery charges for everything from flowers to food. Not to mention, so much tipping involved!
Counting such expenses is the only way to get an actual picture of how much your wedding will cost. And this will help you make any changes upfront to help cut them down if needed. That's why it's so important to do your research.
Calculate & Compare
Once you've gone through all the steps we've listed above, it's time for a reality check. Does the final cost of your ideal wedding actually match the amount of money you have to spend on it? If not, it's time to make some changes. Remember all those discussions about must-haves you and your partner had? Now's when it comes in handy as you know which areas are negotiable and which ones are not.
Once the expected expenses are trimmed down to fit your budget, you can allocate a budget amount to each aspect of your special day. Make sure to share it with others who are involved in the wedding planning process as well. A shared notes app or excel sheet should help you do this seamlessly!
A Final Note
It's not worth it to go broke for the sake of a lavish wedding. Remember that a wedding is simply a celebration of your love and that your life as a married couple will start after it. Starting your life without any money, or worse, in debt, sounds like a pretty ominous opening. Yikes!
Keep in mind that if you cannot afford something, you don't need it. The best kind of wedding is one you can afford. It's all in your head. You can be the happiest person in the world saying "I do" at City Hall too!